Bon appétit!
It's important to recharge after your strenuous exertion in the mountains. Forget about a sausage in a bun or fried cheese and chips. You and your body deserve better. Head to the Pinia Restaurant where you'll be immersed in the ambiance of nature and the mountains. Or simply order half⁠-⁠board catering during your stay and choose something from the buffet dinners at the Labe Restaurant.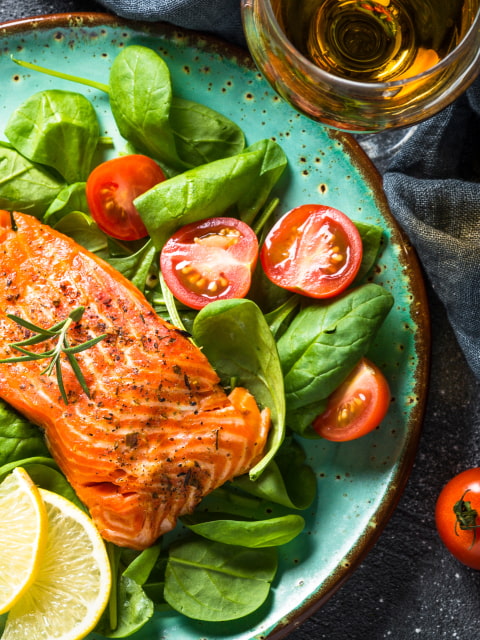 Pinia Restaurant
Can you smell that? Look no further for its source. We're waiting for you in a restaurant that combines the mountain environment with modern recipes. Please sit back and enjoy every moment.
The subdued natural tones and the adjoining large terrace will immediately grab your attention. You are here and now, and you are tasting the best that the mountains have to offer.
We carefully recommend you the best wine for each course. We'll be happy to help you make a selection.
* Just please do not take your pets with you.
Opening time
12:00 ⁠-⁠ 22:00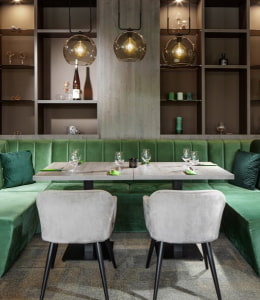 Lobby bar
Stop by for a drink. We recommend a larger table for bigger groups, or sink into one of the big chairs with an interesting book for a more intimate setting. Liven up your visit with billiards, which your children are also welcome to play.
Current opening time:
Daily 16:00 ⁠-⁠ 24:00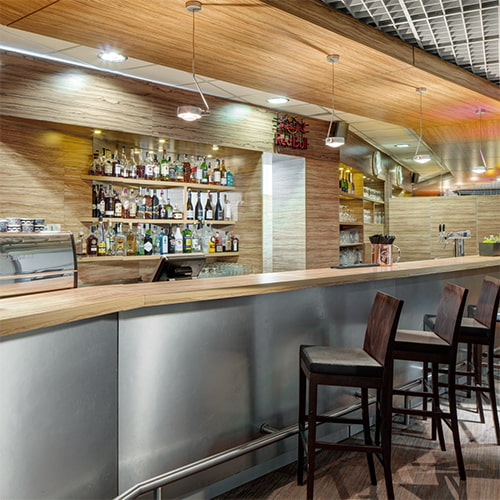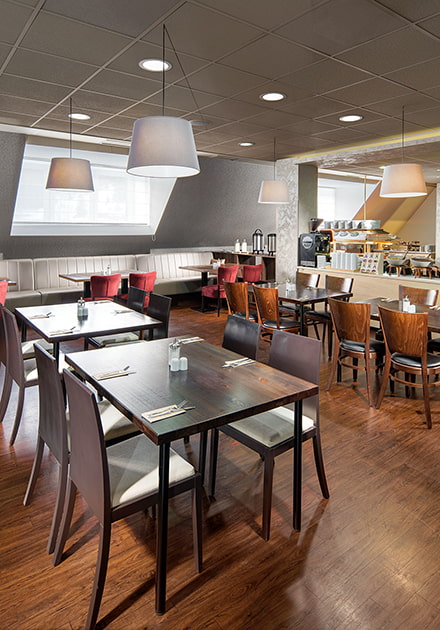 Labe Restaurant
Athletes should start the day with the breakfast of champions. You'll have just that at the Labe Restaurant, where you're sure to find something at the varied buffet. Your children will be very enthusiastic once they discover they can have pancakes one day and then semolina or oatmeal porridge the next.
After a full day on the mountain ridges, it's hard to find the strength to find a restaurant for dinner. Come and enjoy a buffet dinner where every member of the expedition will find what they want most. Half⁠-⁠board catering may be arranged when choosing a room or purchased once you arrive. It's completely up to you. If you order on site, however, you must make your decision by 5:00 p.m. at the latest.
Breakfast is served between 7:00 and 10:00.
Come join us for dinner from 18:00 to 21:00. Dinner can be ordered for EUR 19 per adult and EUR 10,5 per child from 3 to 11 years old. Drinks are not included in the evening buffet.
* When the hotel occupancy is low, breakfast and dinner are served as a served menu.
* Just please do not take your pets with you.
Catering
Refreshments at events should not be underestimated. Leave it up to us, we'd be happy to help out in terms of preparation and service. We provide comprehensive catering services to ensure your guests do not leave hungry. Would you prefer a buffet, served menu or do you have something else in mind?