Pinia Hotel & Resort
Labská 111
543 51 Špindlerův Mlýn
50°42'53.025"N, 15°34'40.592"E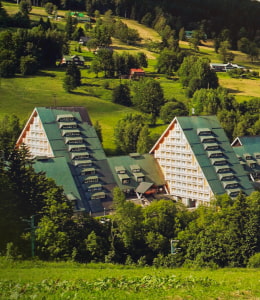 How to get here
The hotel is located on a hill above the Elbe dam and reservoir at the edge of Špindlerův Mlýn. The access road is frequently used by cars and coaches, meaning you need not worry about getting stuck. The Labská ski slope is right next to the hotel, which means there is no need to take a long car or ski bus trip. During the summer, simply step into your pedals or prepare your hiking poles and you're right in the forest of Krkonoše National Park.
Arriving by car
If you're planning to come by car, there's no way to get lost. Drive to Vrchlabí, which is approximately a 15⁠-⁠minute drive from the hotel. Take the exit for Špindlerův Mlýn at the roundabout near the sports complex. The hotel is right by the Elbe dam and reservoir. A large sign with the Pinia logo indicates where to turn off the main road. The parking lot is then only 250 m away. In winter, it is necessary to have complete winter equipment, including snow chains, for entering the Špindlerův Mlýn, so don't forget anything at home.
Arriving by bus
The journey by bus couldn't be simpler. Simply disembark at the Špindlerův Mlýn, Labská stop. Cross over to the other side of the road, walk about 250 m up the hill (there's a big sign by the road) and you've arrived.
---